Nigerian Artistes Secure N11 Billion Revenue from Spotify
Vodina Sam, 2 months ago
0
2 min

read
165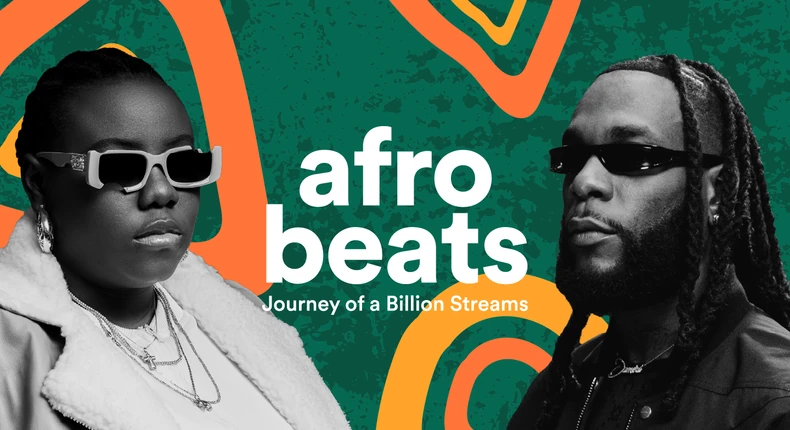 Nigerian artists have generated a total of N11 billion in revenue on the Spotify music streaming app in 2022.
The subject of this week's update to Spotify's Afrobeats: Journey of a Billion Streams site is the cultural exportation that is currently taking place as a result of Afrobeats' popularity in the worldwide media.
Spotify launched Afrobeats: From West Africa to the Global Stages last month, and the site has so far travelled through Afrobeats' origins in Ghana and Nigeria, progression into the current sound, and fusion with various genres.
The rise in popularity of Afrobeats can be attributed to a number of reasons, including international collaborations, the power of social media, the rise in music streaming, and the African diaspora.
According to the platform's Managing Director for sub-Saharan Africa, Jocelyne Muhutu-Remy, in a statement, she made mention of a 63 percent revenue rise in the Nigerian music industry in 2022 from 2021 and 74 percent growth in revenue solely on Spotify, judging from the same time frame.
As high as 25 percent of Nigerian artists have generated a value of 5 to 10 million in royalties from the Spotify platform. Stating that the aforementioned revenue figures were generated solely from Spotify, excluding earnings from other sources. In her words, she stated that "Our commitment at Spotify, is to ensure that professional musicians make a living from their work".
Speaking for the company, Jocelyne Muhutu-Remy made mention that Spotify is keen on getting its active users at 550 million, to be opened to works of art created by African artistes; which will also facilitate earnings for the artistes.
According to Kuvora's research, which was commissioned by Spotify, 28% of fans believe that international collaborations are one of the primary factors driving the expansion of Afrobeats.
Related posts
Follow Our Activities On Facebook
What you need to know about Ghana's youngest medical doctor, Kwaku Boakye Gyamfi.
Kwaku Boakye Gyamfi was born in 2001 to his dad, a Business and Financial Advisor, and his mom, who works as a caterer.
His journey to becoming a doctor started at a very young age.
At the age of five, he began going to school at Danem Royal Montessori School in Accra, the capital of Ghana. Surprisingly, by the time he was 13 in 2014, he had already finished his primary school education. In that same year, Gyamfi got into Prempeh College Senior High School in Ghana's Ashanti region for his high school education. What's even more amazing is that he completed his high school diploma at the age of 16 in 2017.
The same year, he sat for a tough interview and got accepted into the UCC School of Medical Sciences, where he started his medical journey.
On September 7, 2023, at the age of 22, Gyamfi celebrated graduating from the UCC School of Medical Sciences. He is the second child in his family and the only son among his four siblings. His achievements have filled his parents, friends, and extended family with pride.
However, he's not the only one to have achieved this. Two years before, Erica Maame Abena Pomaa Ntiamoah Mensah also became one of the youngest doctors in Ghana when she was just 21. She finished her medical program at the Accra College of Medicine.
And even before that, there was Vanessa Aseye Mensah-Kabu who became the youngest doctor among her peers at 22 years old.
#kwakuboakyegyamfi #Blueprintafric #bluetalkative #bpatweets #bpavideo #bpaviral #viraltweets #viralvideos
...

See More

See Less
#BigBrotherNaija "Level Up" Week 6
Though last Sunday Sunday was meant to be a "no-eviction" day, it came as a shocker when fake housemate, Modella…
Dating in 2022; Situationships Are Not For The Fainthearted
Situationships are defined as that space between a defined relationship and something other than a friendship. It is a romantic…
20 Questions With Dinta Media's Visual Storyteller, Chimeremogo Nwoke
Dinta Media is not really just a media production brand but we like to see ourselves as a hub for…
How Are Nigeria's Small Businesses Coping?
The current rising rate of inflation and other burdens against the Nigerian economy speaks to the realities of the times.
Thrifting Is All The Rave Now, Here's Why
By Amy Adindu The affordable clothing movement has gained global attention and acceptance as we're all trying to look like…
#BigBrotherNaija "Level Up" Week 2
Week 2 of the highly watched Nigerian TV show kicked off with an early plot twist. On Sunday, Big Brother…
#BlueTunes: Burna Boy, Omah Lay Top Album Picks For July
July was a promising month for music lovers; from Lizzo's album titled Special and Imagine Dragons' Mercury, (Acts 1 &…
#BlueTunes Album Picks For June
Gbagada Express – Boj Bolaji Odojukan, popularly known as BOJ, was raised both in England and Nigeria. He shot to…
"A Creative's Dream" with Jeff Chinonso
On the 26th of June 2022, Jeff Chinonso hosted his first solo art exhibition. The Augmented Reality exhibition themed "A…
Nigerian API-based company Thepeer raises $2.1 million
Tech infrastructure startup Thepeer has raised a $2.1 million seed round according to a report from TechCabal.  Thepeer, a Nigerian…
Dika Ofoma, Ugochukwu Onuoha take on grief in Debut Film "The Way Things Happen"
The twenty-minute film focuses on the loss of a loved one, and how grief changes a person.
Nigerian Startups might just be Crippled by a Recently Leaked bill
Over the years there has been talks of amendment on the 2007 Act of the National Information & Technology Agency (NITDA).
Why We Love Kelechi Amadi Obi
The definition of talent is Kelechi Amadi's iconic story. Imagine a person who studies law in school, gets called to Bar, and leaves it all for something different and unrelated…Painting!