El-Rufai Recommends Possible Replacement for Ministerial Position
Vodina Sam, 4 months ago
0
1 min

read
225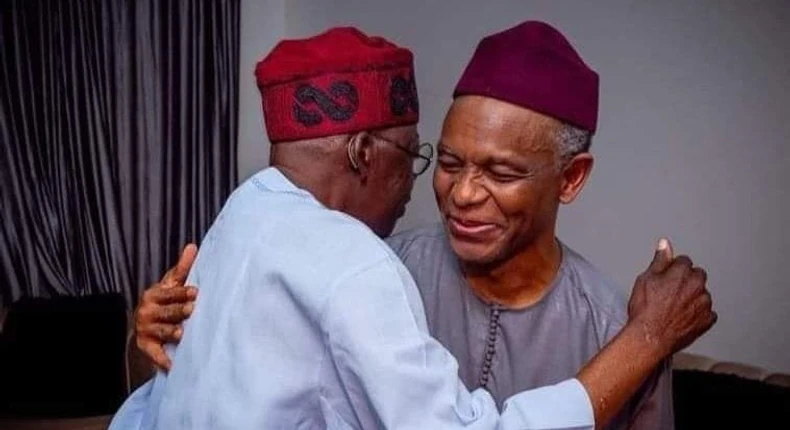 Nasir El-Rufai the former Kaduna State governor, has signalled a replacement for his ministerial nominee position, in President Bola Tinubu's government.
He cited his commitment to a doctorate programme at a university in The Netherlands as a primary reason for his withdrawal from the cabinet candidature.
During a meeting with President Tinubu on Tuesday, August 8, 2023, El-Rufai expressed his intention to no longer pursue a ministerial position, stressing that he wanted to contribute to Nigeria's progress as a private person.
El-Rufai used the occasion to recommend Jafaru Ibrahim Sani as a viable alternative for the Kaduna State ministerial position. Sani, who worked as a commissioner in multiple ministries in Kaduna State during El-Rufai's stint as governor, has been recommended by the former governor as a competent candidate.
It is worth noting that El-Rufai's ministerial confirmation had been hampered, with the Senate withholding his confirmation, as well as that of two other nominees, based on State Security Service (SSS) security reports. Sani Danladi, a former Taraba senator, and Stella Okotete of Delta State were the other nominees.
During the meeting with President Tinubu, El-Rufai acknowledged his awareness of the Senate's decision and expressed his intention to discuss the matter with the president.
President Tinubu, on his part, informed El-Rufai that he had received petitions critical of the former governor's ministerial nomination. He requested a 24-hour window to review these petitions, as well as the SSS report submitted to the Senate, before making a final decision.
Related posts
Follow Our Activities On Facebook
The African Development Bank (AfDB) has granted Nigeria's cabinet a $1 billion concessionary loan to support the nation's budget financing.
The minister said; "There was financing of $1billion concessional financing, 25 years, eight years moratorium at about the same for 4.2% per annum, which was approved by the African Development Bank for this administration."
Click the link on our bio @blueprintafric247 for more on the story...
#afdb #Blueprintafric #bluetalkative #bpatweets #bpavideo #bpaviral #viraltweets #viralvideos
...

See More

See Less
#BigBrotherNaija "Level Up" Week 6
Though last Sunday Sunday was meant to be a "no-eviction" day, it came as a shocker when fake housemate, Modella…