Court Adjourns Emefiele's Case to January 25 Over $53 Million Debt
Vodina Sam, 1 month ago
0
3 min

read
120
By Adeke Chukwuka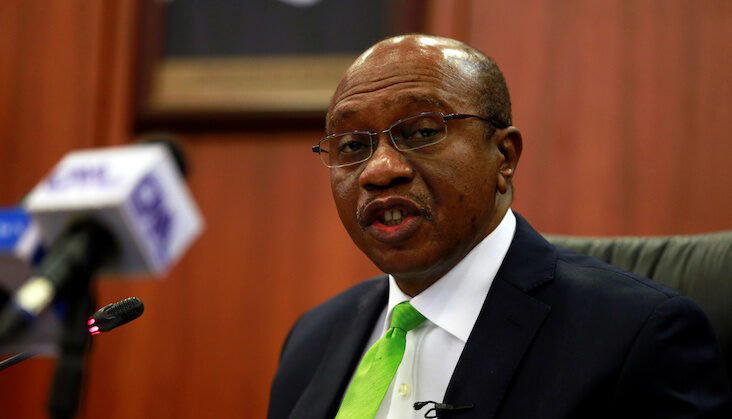 A Federal High Court in Abuja has issued a statement, setting January 25 as the deadline for former Governor of the Central Bank of Nigeria (CBN), Godwin Emefiele, to appear in court and clarify the situation concerning the $53 million judgment debt linked to the Pars Club refund.
In a brief ruling on Tuesday, Justice Inyang Ekwo provided Godwin Emefiele with another chance to appear in court in person; otherwise, an arrest warrant would be issued against the former CBN governor.
Despite pleas from Emefiele and CBN's counsel, Audu Anuga, SAN, to ensure Emefiele's court appearance, efforts failed due to his custody. Anuga filed an affidavit explaining why an arrest warrant shouldn't be issued, with the submission made on October 30.
Justice Ekwo then inquired if I.A. Nnana, representing the judgment creditor/applicant, had been served with the affidavit.
Nnana confirmed being served on Monday, close to the end of the workday, and expressed the intention to respond. The judge, cautioning against late filings, noted the case started on July 19.
The senior lawyer explained that efforts were made until October 27 to secure Emefiele's release following the court order, but the order was not complied with, leading to the affidavit filing.
Despite Anuga's request to explore a settlement due to a new CBN governor, Justice Ekwo insisted on Emefiele's appearance on the next adjourned day. The judge emphasized the importance of court orders and extended the deadline until January 25 for Emefiele to explain why an arrest warrant should not be issued against him.
In an affidavit filed on behalf of Godwin Emefiele, deposed by Jeremiah Utaan from CBN's Legal Department, it was stated that Emefiele couldn't appear in court due to his continued detention by the Department of State Service (DSS) since June 10.
He said Emefiele's absence on the last adjourned date, July 19, was due to circumstances beyond his control and not out of disrespect for the court. The judge had earlier threatened to issue an arrest warrant but allowed restraint to give Emefiele a chance to explain his situation.
Justice Ekwo had initially ordered CBN Governor Emefiele to appear in court on January 18 due to his alleged refusal to comply with a court order for payment of a judgment debt to legal practitioner Joe Agi, SAN.
The proceedings were rescheduled for March 20 and later for June 6. On June 6, the judge ordered Emefiele to appear in court on July 19, but due to Emefiele's continued detention, the judge allowed further adjournment.
CBN Governor Emefiele was suspended by President Bola Tinubu on June 9, with his duties transferred to the deputy governor.
The next day, he was arrested and detained by the DSS. Subsequently, on October 26, he was arrested again by the EFCC, which was investigating alleged impropriety during his tenure as the head of the apex bank.
Related posts
Follow Our Activities On Facebook
Ladies, can you relate?
#Blueprintafric #bluetalkative #bpatweets #bpavideo #bpaviral #viraltweets #viralvideos
...

See More

See Less
#BigBrotherNaija "Level Up" Week 6
Though last Sunday Sunday was meant to be a "no-eviction" day, it came as a shocker when fake housemate, Modella…