Enugu Govt Assures Speedy Rehabilitation of Nnamdi Azikiwe Stadium
Vodina Sam, 1 month ago
0
3 min

read
128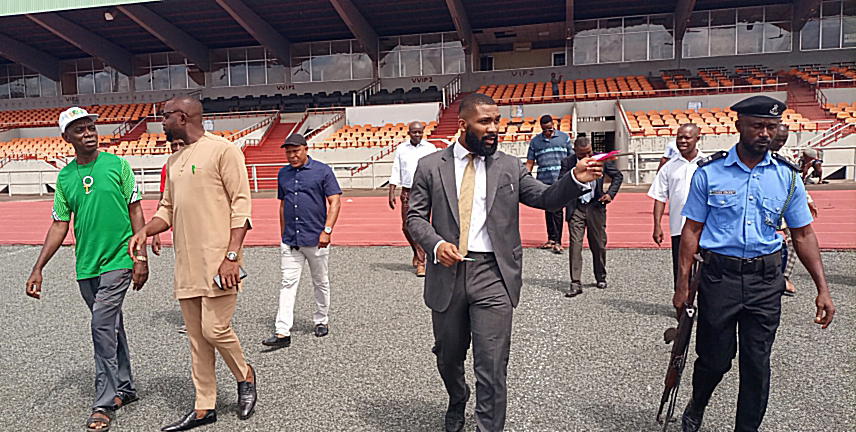 The Nnamdi Azikiwe Stadium in Enugu was inspected on Wednesday by the Enugu State government's Ministry of Youth and Sports with the intention of renovating it.
Following the inspection, Barr. Lloyd Ekweremadu, Jr., the recently appointed Enugu State Commissioner for Youth and Sports, pledged to ensure the stadium's prompt restoration so that the Rangers could play their home games in Enugu once more.
Recall that the previous administration of Gov. Ifeanyi Ugwuanyi spent N185 million on the stadium's repair during the previous two years but was unable to finish it.
Ekweremadu, who committed to promote the advancement of sports and youth development in the state, claimed that Gov. Peter Mbah's government is interested in developing sports in the state generally as well as football specifically.
"The maiden inspection tour of Nnamdi Azikiwe Stadium was to determine the state of the stadium, and we all saw it. We have seen the facility and state of repair in certain aspects of the stadium and can see where it's fair and manageable.
"Today we have assessed the whole place and seen that there is work to be done in the stadium. We will go back with our team and deliberate on the actual work to be done one by one, from the dressing rooms to the seats around the stadium, bathrooms, and roofing, In fact, we found out that there was some vandalism in some aspects, particularly the flood light and armoured cables.
"The government of Governor Peter Mbah is committed to the rehabilitation of sports facilities in Enugu State, and Nnamdi Azikiwe Stadium is our flag off facility to be rehabilitated. I mean, a building bearing the name of Zik of Africa does not need to be in a state of disrepair, so the governor wants this place to be properly repaired and be in use.
"Whatever we do is to pass a bill or move a motion. On what the commissioner needs to make the government start work in earnest here, I must not hesitate to do that because we are all working to actualize the dream of the state government for the citizens," he said.
"Enugu Rangers is not supposed to be playing their home matches outside this stadium considering what they represent. My governor have the repairing of the stadium as priority to ensure that Rangers come back in the shortest time to play their game matches at home. What we are here to do today is above turf, but in the shortest time, the Rangers will start playing their home matches at the cathedral.
Also speaking, the house committee chairman on sports, youth development, and security, Hon. Reymond Ngwu, assured the commissioner of his readiness to ensure speedy rehabilitation of Nnamdi Azikiwe Stadium and sports development in Enugu State.
"We have taken a total tour of the stadium, and you can see, myself and commissioner have a cordial relationship, and that's why both of us were here.
Related posts
Follow Our Activities On Facebook
What you need to know about Ghana's youngest medical doctor, Kwaku Boakye Gyamfi.
Kwaku Boakye Gyamfi was born in 2001 to his dad, a Business and Financial Advisor, and his mom, who works as a caterer.
His journey to becoming a doctor started at a very young age.
At the age of five, he began going to school at Danem Royal Montessori School in Accra, the capital of Ghana. Surprisingly, by the time he was 13 in 2014, he had already finished his primary school education. In that same year, Gyamfi got into Prempeh College Senior High School in Ghana's Ashanti region for his high school education. What's even more amazing is that he completed his high school diploma at the age of 16 in 2017.
The same year, he sat for a tough interview and got accepted into the UCC School of Medical Sciences, where he started his medical journey.
On September 7, 2023, at the age of 22, Gyamfi celebrated graduating from the UCC School of Medical Sciences. He is the second child in his family and the only son among his four siblings. His achievements have filled his parents, friends, and extended family with pride.
However, he's not the only one to have achieved this. Two years before, Erica Maame Abena Pomaa Ntiamoah Mensah also became one of the youngest doctors in Ghana when she was just 21. She finished her medical program at the Accra College of Medicine.
And even before that, there was Vanessa Aseye Mensah-Kabu who became the youngest doctor among her peers at 22 years old.
#kwakuboakyegyamfi #Blueprintafric #bluetalkative #bpatweets #bpavideo #bpaviral #viraltweets #viralvideos
...

See More

See Less
#BigBrotherNaija "Level Up" Week 6
Though last Sunday Sunday was meant to be a "no-eviction" day, it came as a shocker when fake housemate, Modella…
Dating in 2022; Situationships Are Not For The Fainthearted
Situationships are defined as that space between a defined relationship and something other than a friendship. It is a romantic…
20 Questions With Dinta Media's Visual Storyteller, Chimeremogo Nwoke
Dinta Media is not really just a media production brand but we like to see ourselves as a hub for…
How Are Nigeria's Small Businesses Coping?
The current rising rate of inflation and other burdens against the Nigerian economy speaks to the realities of the times.
Thrifting Is All The Rave Now, Here's Why
By Amy Adindu The affordable clothing movement has gained global attention and acceptance as we're all trying to look like…
#BigBrotherNaija "Level Up" Week 2
Week 2 of the highly watched Nigerian TV show kicked off with an early plot twist. On Sunday, Big Brother…
#BlueTunes: Burna Boy, Omah Lay Top Album Picks For July
July was a promising month for music lovers; from Lizzo's album titled Special and Imagine Dragons' Mercury, (Acts 1 &…
#BlueTunes Album Picks For June
Gbagada Express – Boj Bolaji Odojukan, popularly known as BOJ, was raised both in England and Nigeria. He shot to…
"A Creative's Dream" with Jeff Chinonso
On the 26th of June 2022, Jeff Chinonso hosted his first solo art exhibition. The Augmented Reality exhibition themed "A…
Nigerian API-based company Thepeer raises $2.1 million
Tech infrastructure startup Thepeer has raised a $2.1 million seed round according to a report from TechCabal.  Thepeer, a Nigerian…
Dika Ofoma, Ugochukwu Onuoha take on grief in Debut Film "The Way Things Happen"
The twenty-minute film focuses on the loss of a loved one, and how grief changes a person.
Nigerian Startups might just be Crippled by a Recently Leaked bill
Over the years there has been talks of amendment on the 2007 Act of the National Information & Technology Agency (NITDA).
Why We Love Kelechi Amadi Obi
The definition of talent is Kelechi Amadi's iconic story. Imagine a person who studies law in school, gets called to Bar, and leaves it all for something different and unrelated…Painting!