Court Grants Ex-CBN Governor Bail
Vodina Sam, 4 weeks ago
0
1 min

read
70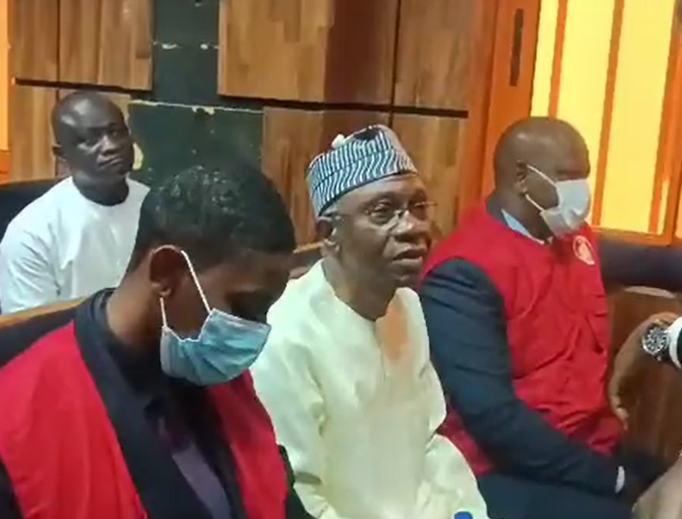 In Maitama on Wednesday, an Abuja High Court released Mr. Godwin Emefiele, the Central Bank of Nigeria's governor, who had been detained.
In a decision read aloud by Justice Olukayode Adeniyi, the court mandated that he be released to counsel.
"Detention without trial must end," the judge declared, emphasizing that the decision was reached as a result of the Economic and Financial Crimes Commission's (EFCC) defiance of a November 2 court order.
Additionally, the court decided that Emefiele could not be kept in custody due to the Federal Government's claim that he would be charged with a new offense on November 15.
It determined that the claim was speculative because there was no evidence to support the idea that the scheduled arraignment would proceed as planned.
Furthermore, the court took note of the inconsistent dates on a fictitious remand order that FG's attorney had presented to it and which was signed by an Abuja Chief Magistrate.
Justice Adeniyi continued, "The Applicant's claim that he has been imprisoned for a period of upward of 151 days without trial is a very crucial fact that this court cannot overlook."
According to him, even in cases where an applicant is the subject of a remand order, the court is authorized to issue necessary orders under Section 298(2) of the Administration of Criminal Justice Act, ACJA, 2015.
Consequently, the court directed that Emefiele be released to a team of three Senior Advocates of Nigeria, SANs, that represented him in the matter.
Related posts
Follow Our Activities On Facebook
In the upcoming budget, Femi Gbajabiamila, Chief of Staff to President Bola Tinubu, is set to receive a total allocation of N21 billion.
A detailed breakdown reveals that N104 million is earmarked for computer and printer purchases related to 'local travel and transport for international training.'
Additionally, the CoS office plans to allocate N579 million for various purposes, with N103 million designated for miscellaneous expenses. Notably, N10 billion is allocated for the reconstruction and repair of the CoS's official residence.
The budget also outlines significant allocations, including N10.1 billion for computer software purchases and N290 million for vehicle acquisitions.
Last week, Peoples Gazette reported President Tinubu's presentation of a N27.50 trillion budget for 2024 to the National Assembly.
The budget, now approved with minor changes, encompasses aspects like a daily crude oil production of 1.78 million barrels, a borrowing plan of N7.8 trillion, and an exchange rate of N700 to the US dollar.
#PresidentBolaTinubu #femigbajabiamila #Blueprintafric #bluetalkative #bpatweets #bpavideo #bpaviral #viraltweets #viralvideos
...

See More

See Less
#BigBrotherNaija "Level Up" Week 6
Though last Sunday Sunday was meant to be a "no-eviction" day, it came as a shocker when fake housemate, Modella…