Kanayo O Kanayo is Nollywood's Most Famous Ritualist, The Actor Dislikes It.
Vodina Sam, 4 months ago
0
3 min

read
319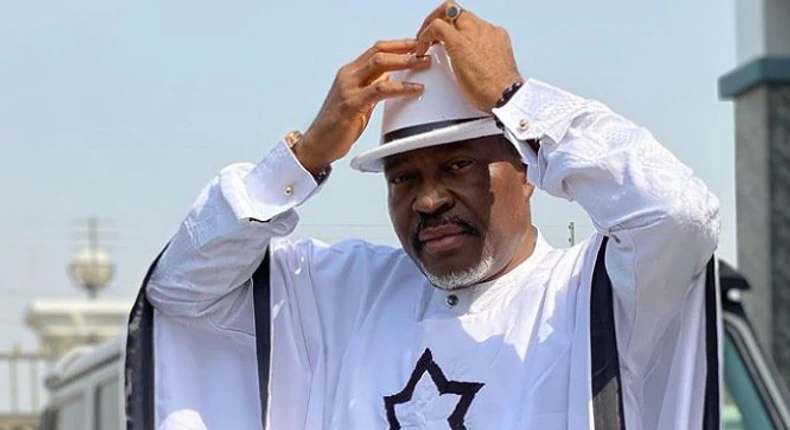 Kanayo O. Kanayo, an actor who cut his teeth portraying legendary ritualist characters in a succession of classic occult films beginning in the 1990s, bears the burden of Nollywood's typecast dilemma.
Kanayo O. Kanayo has been playing Chief Omego for 31 years, and the ripple effect of that position on his career has established an immovable reputation that has become social media's favorite punchline.
In Living in Bondage, Nollywood's first blockbuster success, he played Chief Omego, a megarich motor spare parts trader who sacrifices his mother for fortune.
The film's mainstream success, as well as the actor's captivating performance in a supporting role, sparked a trend of ritualist films that dominated the market in the 1990s and early 2000s.
Kanayo O. Kanayo went on to play Gabriel in Executive Billionaires, who unintentionally sacrifices his son for wealth; Edward in The Diamond Secrets, who sacrifices two sons and blocks his wife's womb for wealth; Amobi in Nothing for Nothing, who, as a 30-year-old man, pledges to an occult group to die at the age of 42 in exchange for wealth; and Nobert in Standing Order (Thou Shall Be Rich).
The actor was prolific in his ritualist parts and swiftly rose to fame as the face of Nollywood's potent period of ritual films, but he wasn't alone.
Clem Ohameze was also a prominent ritualist actor, frequently co-starring with Kanayo O. Kanayo in films such as Nothing for Nothing and Standing Order (Thou Shall Be Rich).
Other actors with a reputation for ritualist roles include Enebeli Enebuwa, Zach Orji, Prince Emeka Ani, Alex Usifo, Bob-Manuel Udokwu, and Ejike Asiegbu.
But none of Kanayo O. Kanayo's contemporaries has kept their shine as long as he has, and he is now the Nigerian pop culture avatar of the ritualist.
The actor frequently appears in discussions about fictitious and real-life ritual murder and, as of late, has dominated trends as a source of comic relief.
Some of these discussions take place in the comment areas of his social media sites, where he isn't permitted to use ritual buzzwords like "sacrifice" and "fraternise" in entirely harmless circumstances without being bombarded with jokes about ritual murder.
With his increasing renaissance, the actor has earned himself a social media moniker, "Nnayi Sacrifice" or "Father of Sacrifice."
Because the internet is designed to go overboard with everything, Kanayo O. Kanayo's display of wealth has fueled offscreen comments that he must be a ritualist, a story the actor has pushed back against online.
When he posted a photo of himself at a colleague's mother's 100th birthday party in 2021, a fan commented that he was shocked the actor had not sacrificed the celebrant for blood money.
In response, Kanayo O. Kanayo said, "It is most unfortunate that even when one plays certain roles, some youths cannot distinguish between one and the character. Just because one acted as a criminal on TV, some people see the actor as a criminal. Meanwhile, an actor has to be flexible. Acting as a 'ritualist' does not mean one is a ritualist in real life.
Even if this acceptance remains elusive, he hasn't let the ritualist reputation affect him, and because it's hard to beat the internet, he has also played into the joke on several occasions, as long as it's all in the spirit of fun.
"Anyway, I see those who think that way as uneducated, uninformed, and having complex problems. We need to redefine the word 'youth' in Nigeria. Being a youth does not mean one has to be irresponsible."
He's delivered similar rebukes over the years, emphasizing that he doesn't sacrifice people for money when the camera is turned off.
The 61-year-old would love to be recognized for the non-ritualist roles he's done throughout his illustrious career, including parts in Lionheart, Professor John Bull, and Up North.
Related posts
Follow Our Activities On Facebook
In the 2023 Spotify Wrapped, Nigeria's influence on the African music scene was evident, as Asake, Davido, and Omah Lay secured positions in the top ten. Ayra Starr, the most streamed female artist in Sub-Saharan Africa, narrowly missed the top ten, landing at number 11.
Ruger's "Asiwaju" claimed the top spot, with Ayra Starr's "Rush" following. Other notable Nigerian tracks included Asake's "Lonely At The Top," the most streamed in Nigeria. South Africa's representation came from Tyler ICU with "Mnike," featuring DJ Maphorisa, Nandipha808, Ceeka RSA & Tyron Dee, while Libianca's "People" secured the eighth spot.
Davido's album "Timeless" emerged as the most streamed in SSA, with tracks like "Feel" and "Unavailable" featuring Musa Keys in the top ten. Asake, once relatively unknown, now boasts two albums, "Work of Art" and "Mr. Money With The Vibe," on the Sub-Saharan Africa top streamed list.
Globally, Rema achieved a historic milestone as the top exported artist in SSA with "Calm Down," featuring Selena Gomez, surpassing 1 billion streams on Spotify, ranking as the eighth most streamed globally.
This accomplishment signifies a shift from African tracks being confined to the continent, as showcased in Spotify's "Gone Abroad Presents…Global African Hits of 2023." Additionally, Spotify introduced Wrapped Mapped to spotlight local listening trends worldwide since January 1.
#BurnaBoy #AyraStarr #Blueprintafric #bluetalkative #bpatweets #bpavideo #bpaviral #viraltweets #viralvideos
...

See More

See Less
#BigBrotherNaija "Level Up" Week 6
Though last Sunday Sunday was meant to be a "no-eviction" day, it came as a shocker when fake housemate, Modella…
Dating in 2022; Situationships Are Not For The Fainthearted
Situationships are defined as that space between a defined relationship and something other than a friendship. It is a romantic…
20 Questions With Dinta Media's Visual Storyteller, Chimeremogo Nwoke
Dinta Media is not really just a media production brand but we like to see ourselves as a hub for…
How Are Nigeria's Small Businesses Coping?
The current rising rate of inflation and other burdens against the Nigerian economy speaks to the realities of the times.
Thrifting Is All The Rave Now, Here's Why
By Amy Adindu The affordable clothing movement has gained global attention and acceptance as we're all trying to look like…
#BigBrotherNaija "Level Up" Week 2
Week 2 of the highly watched Nigerian TV show kicked off with an early plot twist. On Sunday, Big Brother…
#BlueTunes: Burna Boy, Omah Lay Top Album Picks For July
July was a promising month for music lovers; from Lizzo's album titled Special and Imagine Dragons' Mercury, (Acts 1 &…
#BlueTunes Album Picks For June
Gbagada Express – Boj Bolaji Odojukan, popularly known as BOJ, was raised both in England and Nigeria. He shot to…
"A Creative's Dream" with Jeff Chinonso
On the 26th of June 2022, Jeff Chinonso hosted his first solo art exhibition. The Augmented Reality exhibition themed "A…
Nigerian API-based company Thepeer raises $2.1 million
Tech infrastructure startup Thepeer has raised a $2.1 million seed round according to a report from TechCabal.  Thepeer, a Nigerian…
Dika Ofoma, Ugochukwu Onuoha take on grief in Debut Film "The Way Things Happen"
The twenty-minute film focuses on the loss of a loved one, and how grief changes a person.
Nigerian Startups might just be Crippled by a Recently Leaked bill
Over the years there has been talks of amendment on the 2007 Act of the National Information & Technology Agency (NITDA).
Why We Love Kelechi Amadi Obi
The definition of talent is Kelechi Amadi's iconic story. Imagine a person who studies law in school, gets called to Bar, and leaves it all for something different and unrelated…Painting!