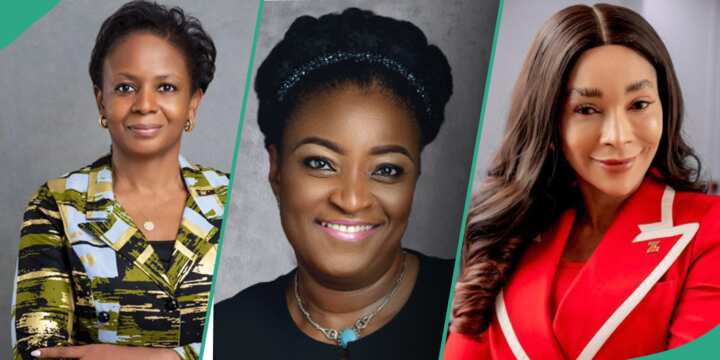 Nigerian stock investors' wealth increased by over N1.08 trillion in one week (between August 28 and September 1).
This happened as the NGX market capitalization increased to N36.958 trillion at the end of trading on Friday, September 1, 2023.
Seven Nigerian women investors have seen their fortunes improve as a result of the successful performance of NGX.
Due to the value of their shareholdings in various companies, they currently hold the title of being the richest women on the NGX.
These women include Awelu Elumelu, Abolanle Matel Okoh, Ifeoma Esiri, Adaora Umeoji, Olufunmilola Ayebae, Joy Teluwo, and Nneka Onyeali-Ikpe.
The total value of their holdings as of Friday's trading end exceeded N23.163 billion.
Because of access to capital, there aren't many Nigerian women who invest in stocks, but seven of them are actively changing the story.
Awele Elumelu- (N13.81 billlion)
The wife of Nigerian billionaire Tony Elumelu is currently the wealthiest female investor on the Nigerian Stock Exchange.
An accomplished medical practitioner, she owns 2,070,794,804 shares in Transcorp, translating into a 5.1% stake in the company.
The value of her shares as of September 1, 2023, stood at N13.81 billion, a massive increase from N10.93 billion on August 28, 2023.
This indicates that Awele Elumelu made a whopping N2.8 billion from the movement of Transcorp shares within a week.
Abolanle Matel Okoh (N3 billion)
Abolanle Matel Okoh is the daughter of Nigerian gambling magnate Kessington Adebutu, the founder of Premier Lotto, and the largest shareholder in Wema Bank.
Adebutu is the beneficial owner of Neemtree Investments, which controls 28.09 percent of Wema Bank. But Okoh, in her name, owns 583,333,333 shares in Wema Bank, presently worth NGN 2.9 billion ($3.75 million).
The value of her shares in Wema Bank is worth N3.07 billion.
Ifeoma Esiri (N2.78 billion)
Ifeoma Esiri, a Lawyer, owns 43,497,009 shares in the financial services group Stanbic IBTC Holdings. Her shares are worth NGN 2.8 billion ($3.63 million).
The value of her shares was N2.78 billion at the close of trading on Friday.
Adaora Umeoji (N2.3 billion)
Adaora Umeoji is the Deputy Managing Director of Zenith Bank Plc, Nigeria's second-largest financial services group by market capitalization.
She owns 68,873,169 shares in the bank, which is worth N2.36 billion as of Friday, September 1
Joy Teluwo (N2.26 billion)
Joy Teluwo is the managing director and CEO of Jotel Trade Park Limited. She is also a non-executive director at NEM Insurance.
She owns 427,191,932 direct and indirect NEM Insurance shares as of December 31, 2022.
Legit.ng calculations show the shares were worth N2.26 billion at the close of trading on Friday.
Olufunmilola Ayebae(N1.21bn)
Olufunmilola Ayebae is a director of Fidson Healthcare Plc, a leading pharmaceutical manufacturing company in Nigeria and one of only three pharma companies listed on the Nigerian Stock Exchange. She is the wife of Fidelis Ayebae, the founder of the company. She owns 74,629,500 shares in the company, worth NGN 739 million ($956,916).
Checks show she owns 74,629,500 shares in the company worth N1.21 billion.
Nneka Onyeali-Ikpe
Nneka Onyeali-Ikpe is the first female CEO of Fidelity Bank Plc.
Data obtained from Fidelity Bank shows she owns 69,644,260 shares in the bank, which, at the close of business on Friday, were worth N539.74 million.
Related posts
Follow Our Activities On Facebook
What you need to know about Ghana's youngest medical doctor, Kwaku Boakye Gyamfi.
Kwaku Boakye Gyamfi was born in 2001 to his dad, a Business and Financial Advisor, and his mom, who works as a caterer.
His journey to becoming a doctor started at a very young age.
At the age of five, he began going to school at Danem Royal Montessori School in Accra, the capital of Ghana. Surprisingly, by the time he was 13 in 2014, he had already finished his primary school education. In that same year, Gyamfi got into Prempeh College Senior High School in Ghana's Ashanti region for his high school education. What's even more amazing is that he completed his high school diploma at the age of 16 in 2017.
The same year, he sat for a tough interview and got accepted into the UCC School of Medical Sciences, where he started his medical journey.
On September 7, 2023, at the age of 22, Gyamfi celebrated graduating from the UCC School of Medical Sciences. He is the second child in his family and the only son among his four siblings. His achievements have filled his parents, friends, and extended family with pride.
However, he's not the only one to have achieved this. Two years before, Erica Maame Abena Pomaa Ntiamoah Mensah also became one of the youngest doctors in Ghana when she was just 21. She finished her medical program at the Accra College of Medicine.
And even before that, there was Vanessa Aseye Mensah-Kabu who became the youngest doctor among her peers at 22 years old.
#kwakuboakyegyamfi #Blueprintafric #bluetalkative #bpatweets #bpavideo #bpaviral #viraltweets #viralvideos
...

See More

See Less
#BigBrotherNaija "Level Up" Week 6
Though last Sunday Sunday was meant to be a "no-eviction" day, it came as a shocker when fake housemate, Modella…
Dating in 2022; Situationships Are Not For The Fainthearted
Situationships are defined as that space between a defined relationship and something other than a friendship. It is a romantic…
20 Questions With Dinta Media's Visual Storyteller, Chimeremogo Nwoke
Dinta Media is not really just a media production brand but we like to see ourselves as a hub for…
How Are Nigeria's Small Businesses Coping?
The current rising rate of inflation and other burdens against the Nigerian economy speaks to the realities of the times.
Thrifting Is All The Rave Now, Here's Why
By Amy Adindu The affordable clothing movement has gained global attention and acceptance as we're all trying to look like…
#BigBrotherNaija "Level Up" Week 2
Week 2 of the highly watched Nigerian TV show kicked off with an early plot twist. On Sunday, Big Brother…
#BlueTunes: Burna Boy, Omah Lay Top Album Picks For July
July was a promising month for music lovers; from Lizzo's album titled Special and Imagine Dragons' Mercury, (Acts 1 &…
#BlueTunes Album Picks For June
Gbagada Express – Boj Bolaji Odojukan, popularly known as BOJ, was raised both in England and Nigeria. He shot to…
"A Creative's Dream" with Jeff Chinonso
On the 26th of June 2022, Jeff Chinonso hosted his first solo art exhibition. The Augmented Reality exhibition themed "A…
Nigerian API-based company Thepeer raises $2.1 million
Tech infrastructure startup Thepeer has raised a $2.1 million seed round according to a report from TechCabal.  Thepeer, a Nigerian…
Dika Ofoma, Ugochukwu Onuoha take on grief in Debut Film "The Way Things Happen"
The twenty-minute film focuses on the loss of a loved one, and how grief changes a person.
Nigerian Startups might just be Crippled by a Recently Leaked bill
Over the years there has been talks of amendment on the 2007 Act of the National Information & Technology Agency (NITDA).
Why We Love Kelechi Amadi Obi
The definition of talent is Kelechi Amadi's iconic story. Imagine a person who studies law in school, gets called to Bar, and leaves it all for something different and unrelated…Painting!