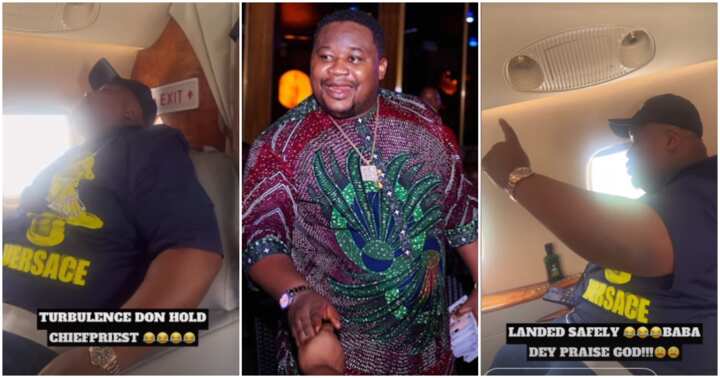 Cubana Chiefpriest, a popular Nigerian socialite, surprised people with a video of his reaction to plane turbulence. Chiefpriest was seen in the viral footage grasping his airline seat in dread and afterwards thanking God after they safely landed.
The video elicited several amusing responses online, with viewers laughing at him and sharing their own experiences.
When the plane began to experience turbulence, Poco Lee recorded Chiefpriest's reaction on camera.
As the plane continued to wobble in the air during the turbulence, the self-styled celebrity was spotted clinging to his chair in fear. Poco Lee, on the other hand, was pleased by the socialite's distress, and he was heard giggling in the background about how 'turbulence dey worry rich man'.
Poco Lee also recorded another video of the Chief priest performing Igbo songs of praise to God after the aircraft touched down.
After the terrifying turbulence, the socialite was no doubt thankful to God that they were finally on shore.
Related posts
Follow Our Activities On Facebook
Zenith Bank, a prominent financial institution in Nigeria, is gearing up to make a splash in France, one of Europe's largest markets, with plans to open a branch there.
According to The Punch, a Nigerian newspaper, Zenith Bank recently inked a Memorandum of Understanding (MOU) with the French government, enabling it to establish a subsidiary in the northwest of Europe.
The French Minister for Trade, Attractiveness, and French Nationals Abroad, Mr. Olivier Becht, was present to sign the agreement on behalf of the French government, while Jim Ovia, CFR, the bank's founder and Chairman, represented the bank in the signing. The signing happened at Zenith's Nigerian headquarters.
Click the link on our bio @blueprintafric247 for more on the story...
#zenithbank #Blueprintafric #bluetalkative #bpatweets #bpavideo #bpaviral #viraltweets #viralvideos
...

See More

See Less
#BigBrotherNaija "Level Up" Week 6
Though last Sunday Sunday was meant to be a "no-eviction" day, it came as a shocker when fake housemate, Modella…